Children in Cite Soleil awaiting tuition sponsorship:
Florestal Bethsaida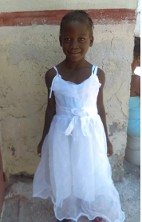 Hello! My name is Florestal Bethsaida, and I am 7 years old. I am an orphan, so I live with my grandfather who cannot afford to send me to school. It's not easy to support myself and go to the hospital when I am sick. After the recent death of my mother, my situation has become very complicated.
Please help me go to school in order to learn how to read and write. In the future, I want to be a nurse.
Thank you!
Bethsaida
Jean-Baptiste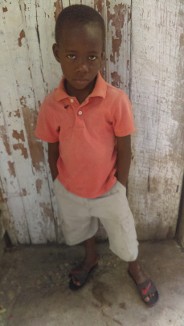 Hello,
I'm Jean-Baptiste. I am 6 years old. I am the youngest in my family. I live with my mother, and I also have three step-sisters and three step-brothers. My father has not stayed with my mother for many years.
My family can't help with my education and take care of me at the same time. I need to go to school to learn how to write and read.
I am a happy boy, and I like to dance and play football.
My dream is to be a teacher when I grow up. I will be happy to find a person as my sponsor.
Love,
Jean Baptiste
Miko Volmar
Hi there,
I am Miko Volmar. I'm a little boy and I'm six. I have one brother and two sisters. I live with my mother Angeline who cannot take care of me. She can't help me go to school. Things like school, food, and health all sound like a great luxury for my mother. My father is alive but he abandoned me when I was born and he separated from my mother.
I like to play with my friends. I am wise and respectful. I like to share with others.
I really want to find someone to sponsor me so I have a chance to attend school. I am not going to school right now.
I want to be a doctor in the future.
Thank you!
Miko
Mistafa Ladouceur
Hello!
I am Mistafa Ladouceur and I'm 17 years old. I've been an orphan for 12 years. I have 5 brothers and 2 step sisters. My father is very sick and cannot help any of us. I have no place to stay. Right now, I am staying at the home of my brother's friend. I had stopped going to school, but as soon as my sponsor, Paul, had chosen to support my education, I could continue with my education again. I think education is one of the most important things in my life.
In school, my favorite subjects are math, social sciences, and languages. My favorite colors are blue and yellow.
I'm grateful to my sponsor, Paul, for helping me fund my education.
Love,
Mistafa
******Mistafa's sponsorship will expire, starting fall tern of 2020, so we hope to find a sponsor for her before then.
Melanca Geffrard
Hello,
My name is Melanca Geffrard. I am 13 years old, and I live in Cite Soleil with my poor family. Thanks to my previous sponsor, Paul, I am happy that I was able to attend school, a chance that many of my friends don't have. I want to continue to go to school so I can achieve my dreams in the future. My dad has an occasional job but he is unable to take care of me with his small income. My mother does not work right now.
I want to thank my sponsor Paul who supported my education. My dream is to become a nurse so I can take care of my family and friends when they are sick.
Thank you!
Melanca
***Melanca's sponsorship will expire before the fall term of 2020. We hope we will be able to find a tuition sponsor before then so that her education will not be interrupted.